Don't blame it on the Moonlight
Our features writer Louise Tomlin talks to the owner and inventor of stone globe lights, Joanna Wallis
Every now and then you come across a product or idea that immediately makes sense and you think, "Of course, that works, it's brilliant, why hasn't anyone done that before?"
That's exactly what I thought when I saw Stone Globe Lights a few years ago at the Futurescape exhibition. I met a lady who was putting her stand together for the show the next day and I was drawn to the collection of attractive stone spheres; they were really lovely things in various natural stone colours, of different sizes with a lovely texture and finish. At the time however there were quite a lot of decorative ball and other ornamental object companies in the marketplace, and I was about to move on when all of a sudden they lit up and I discovered they were not just decorative
but functional too. That was my introduction to Stone Globe Lights and the lady who invented them, Joanna Wallis.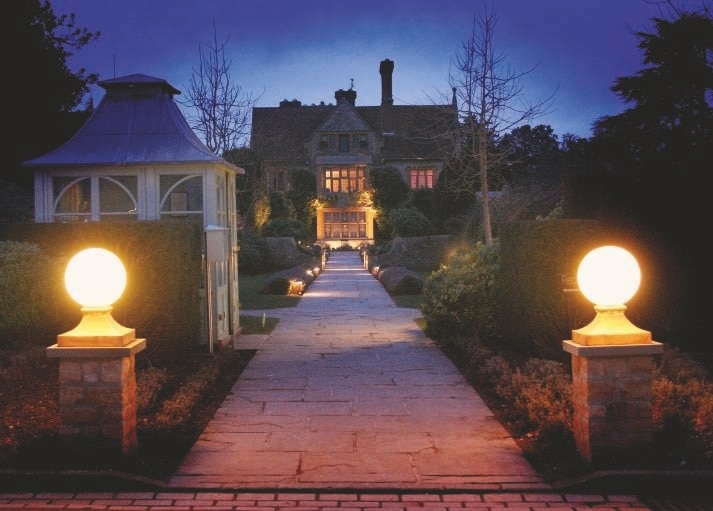 The lights came into being when Joanna, who was at the time running a specialist hand-crafted lighting business that supplied the interior design market, was asked by a client about making a 'full moon' light. After various trials and design ideas a prototype globe light was born. Sounds simple, but several years of hard work, trials and product development, with successes and some failures have followed.
Now Joanna has ticked all the boxes and she has two different types of lights available; Finial Globe Lights with a plinth, which are made from Fibreglass and resin, and Spherical Globe Lights made from Polyethylene which are available in three sizes: 280mm, 380mm and 500mm diameter. Mains voltage 240v, low voltage 12v, and solar powered options are offered. They are supplied with a base bracket that fixes easily to brick and hard surfaces, and if ground installation is wanted, a sturdy support spike can be fitted to the bracket. Last but not least, all the necessary safety regulations have been secured with Protection IP65 and the appropriate CE mark.
During the day they are natural looking stone spheres, but once the light fades, they reveal their hidden role, as classy moons of light, giving illumination to their immediate vicinity and also a gentle ambient glow that is further reaching.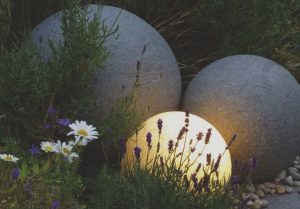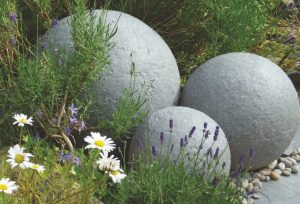 Joanna tells me, "Our lights are hand-made here in the UK. Spherical Globe Lights are made from tough polyethylene with a unique rough surface, in six finishes including 'Sandstone', 'Weathered Stone' and 'Granite', and they are virtually indistinguishable from stone with no ugly light fitting to shatter the illusion. They are non-corrosive, UV and frost resistant. The colour finishes have been carefully chosen to match natural stone products."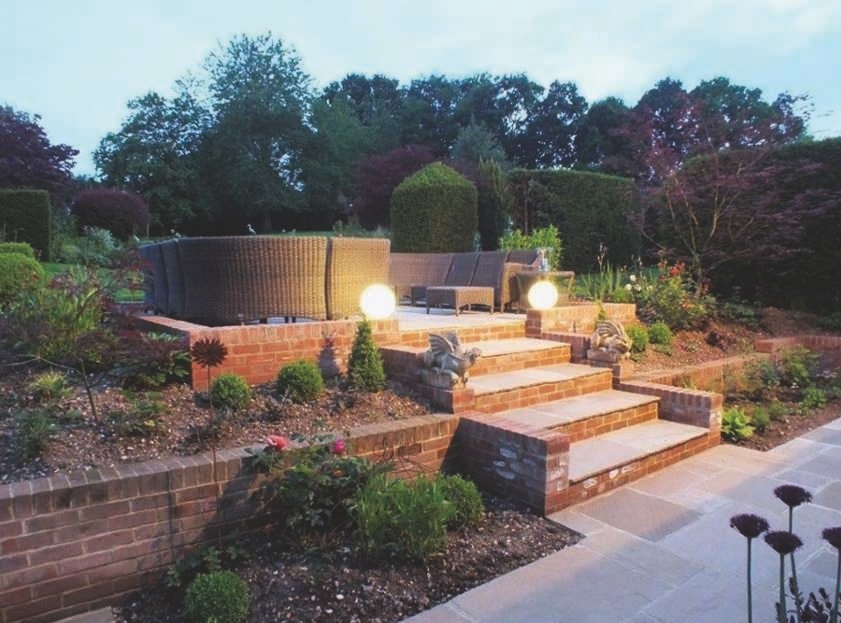 These lovely Stone Globe Lights have been much admired and are being used by garden designers, landscapers, architects and private homeowners alike. Awareness is growing, Stone Globes were a finalist if the SGD (Society of Garden Designers) Product of the Year Award, they have been featured in many home, garden and lifestyle magazines, and the Stone Globe Finials have been installed in some very prestigious venues including the grounds of Chef, Raymond Blanc's Le Manoir aux Quat' Saisons, his Michelin starred hotel and restaurant in Oxfordshire.
There are very obvious uses for globe lights, it's quite usual to see spheres on the top of stone and brick piers in gateways of large houses, now you can have a globe that appears to be stone during the day but after dark is a light source keeping clients and visitors safe. They are very convincing and, Joanna assures me, that the colour matching service as a final part of the handmade process that she oversees personally on the Finial Globe Lights, is key to ensuring customer satisfaction.
"It is good to be able to offer the option of having them colour-matched to tone with the surrounding stone if required. Since they are hand-made in the workshop and then finished by myself it is no problem to customise them. Sometimes I am sent a piece of the stone the client wants me to colour-match it to, or else I'm told the nearest colour from a Farrow & Ball paint chart. Generally, I ask if it is a new or old property the Globe Lights are going to be installed in and I create an appropriate finish. I suppose my eye for design has taught me that."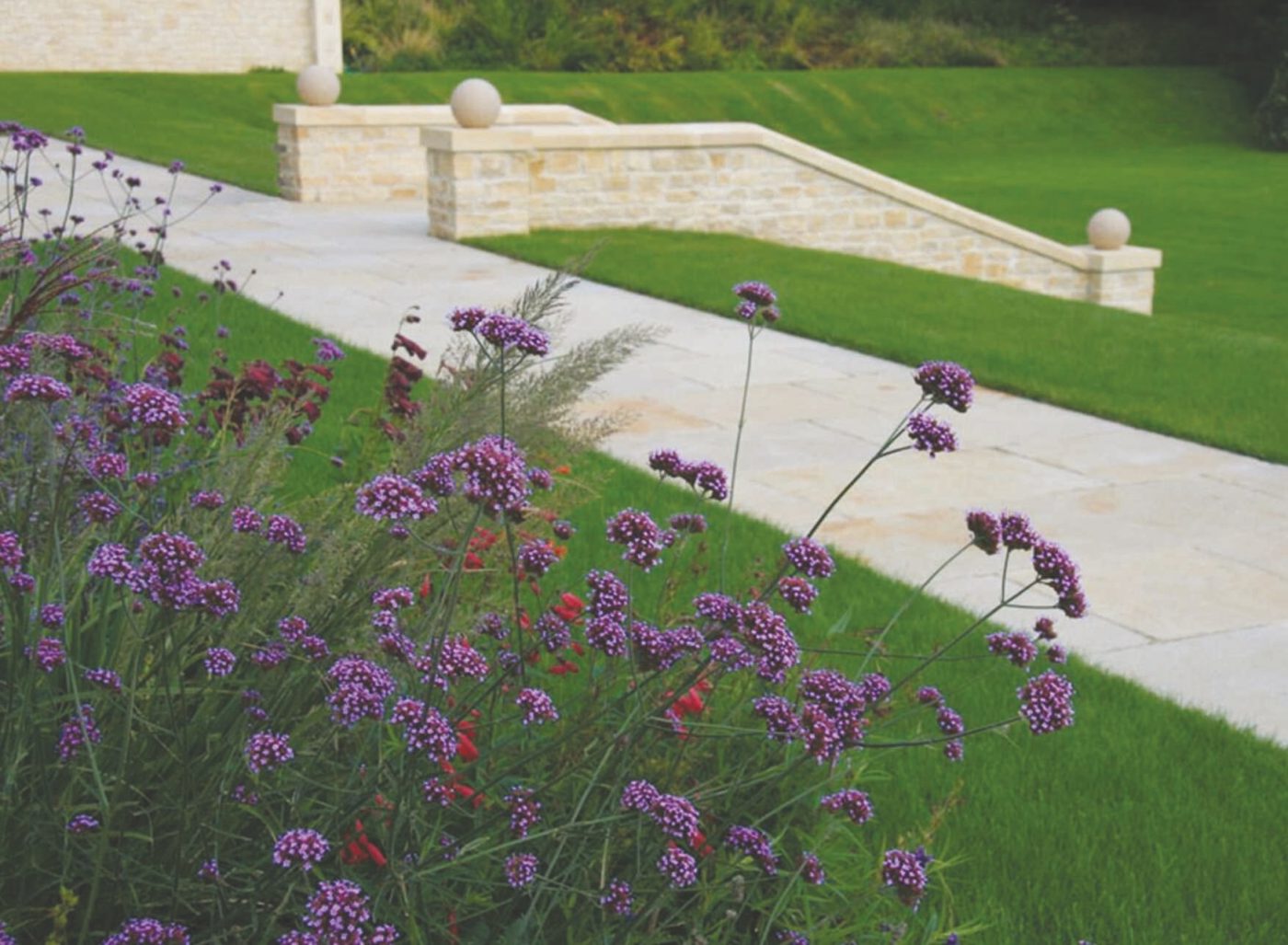 Joanna goes on to mention other uses for the Globe Lights, "They could be used by anyone looking for a source of light that is gentle on the eye. I think in large properties they could line driveways or be part of the balustrading. They are also being used for new builds, not just as additions to existing and historic properties and by events organisers as lighting outside marquees."
In previous years they've been featured in show gardens at RHS shows, this year in the Silver medal winning Secured by Design garden at RHS Hampton Court Flower Show. It's no coincidence that the theme of the garden was security in the home and garden, the globe lights are an attractive means of introducing illumination, without the glare and the 'searchlight' effect that is sometimes so unpleasant with modern security lighting.
There's no doubt we will be seeing more of Joanna's stylish, classy lights… Don't blame it on the moonlight, blame it on the Globe Lights!
If you want to find out more about Stone Globe Lights please visit the website www.stoneglobelights.co.uk